Latest
Centre de Telecomunicacions de
la Generalitat de Catalunya
itelco DAB 1.6KW
Digital Radio Transmitter purchase.
500 W - 1.5 kW Band III Transmitters

For DAB transmitters from 500 W to 1.5 kW r.m.s. output power, where efficient cooling and reduced dimensions are crucial, Itelco uses the same sophisticated design and field-proven components as in the liquid cooled solid state television transmitters for VHF Band III. This also ensures future spare parts availability and operational economy.

The broadband power amplifier modules utilize high gain MOSFET technology. Along with very advanced circuit de- sign (utilizing no circulators) and efficient liquid cooling, Itelco power amplifier modules achieve very high linearity and efficiency. Modules, with integrated DC/DC converter, require no tuning and are self-protected against max VSWR, RF input overdrive, overcurrent, overtemperature, overvoltage and undervoltage. Itelco innovative liquid cold-plate cooling system ensures superior cooling even in the most hostile environments, eliminates acoustical noise and stops external pollutants or contaminants from entering the transmitter. Innovative cooling and sophisticated design significantly reduce transmitter dimensions, simplify installation and minimize the need for routine maintenance. When service is required, the user-friendly modular design and the absence of air handling equipment allow easy access to all components. Hot-pluggable power amplifier modules may be safely removed and inserted without interrupting transmitter operation. The efficient liquid cooling (lower transistor flange temperature), the fault tolerant design, and the reduced number of components yield an outstandingly good MTBF. The microprocessor-based transmitter control unit makes supervision and monitoring clearer and more effective, makes operation easier, and improves remote controllability.


NEW Installation of two 50W FRATEI Transposers
with diplexers for C.T.G.C.
in EL CALVO center.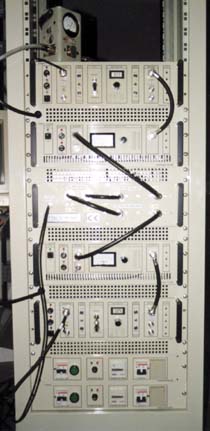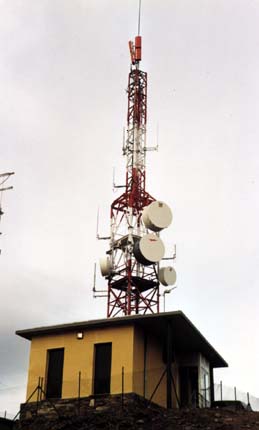 Remote control of FRATEI equipment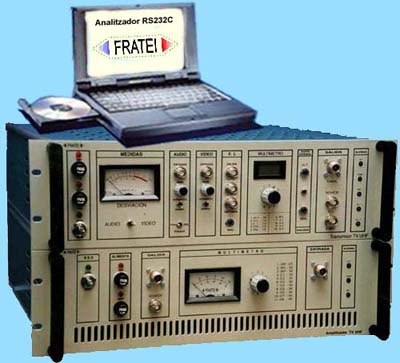 | | |
| --- | --- |
| | Control and monitoring with interface standard RS232 |
| | Control and monitoring with relais |

For more information e-mail teixido@fratei.com